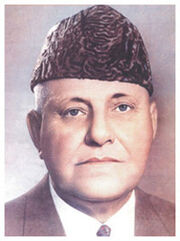 Wali of swat
Miangul Jahan Zeb (1908–1987) formally Miangul Abdul-Haqq Jahan Zeb was  ruler of the princely state of Swat currently part of Pakistan and formally titled the Wāli. He served as the Wāli of Swat between 1949 and 1969, taking over from his father, Miangul Abdul Wadud. He is remembered for the hard work he put into building schools, hospitals and roads for his people, but also for his absolute rule over the region, which ended when Pakistan took control after local unrest. Jahan Zeb was also a conscienscious protector of the landmarks of previous cultures. Janhab zeb college ,wadudiya hall,wadudia high school and shrine of saidu baba are his main contributions whome are highly acknowledged by the masses. His  son Miangul Aurang Zeb remaine   governor of kpk and Balochistan.
Community content is available under
CC-BY-SA
unless otherwise noted.